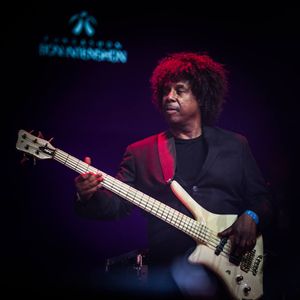 Sonny Thompson (Bass)
Tours with Prince: The Gold Experience/The Ultimate Live Experience (1995/96), 
The Interactive Tour (1994), Act II (1993), Act I (1993), Diamonds & Pearls (1992), Nude Tour (1990) 
Albums with Prince:  Diamonds & Pearls, Symbol, Come, The Gold Experience, Chaos & Disorder, The Vault: Old Friends For Sale, New Power Soul, Gold Nigga, Exodus, Emancipation, and Crystal Ball / The Truth 
Well known to those in Prince's world is the fact that Sonny taught Prince how to play bass.  When Prince first put the NPG together, he personally drafted a press release for his new publicist that stated, "Also new in the band is Prince's musical idol, Sonny T.  Sonny served as a role model for Prince growing up in North Minneapolis.  Self-taught – Sonny can play or sing anything he hears – soul, jazz, classical – anything!  Sonny plays bass in the N.P.G. although he doubles on every other instrument." 
Sonny was the featured vocalist on New Power Generation releases, Exodus, and Gold Nigga. 
Following his time in the NPG, he became a member of Nick Jonas and the Administration (a project created BY Nick Jonas of the Jonas Brothers) along with other former members of the New Power Generation, drummer Michael Bland and keyboardist Tommy Barbarella.  Sonnny had played with the Family, the house band at a community center called "The Way" that was one of Prince' favorite haunts in his youth.  In fact, both Sonny and Prince performed together on the Lewis Brothers' 1979 track, "Got to be Something Here."  But ironically, Sonny sang lead vocals while Prince sang background vocals and played rhythm guitar.